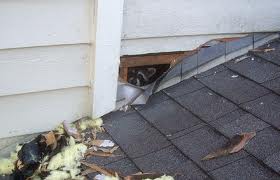 We're a family owned and operated business. We've been in the wildlife control business since 1990 and are NWCOA (National Wildlife Control Operators Associate) certified and hold a Florida Trapping License.
We pride ourselves on not just managing your wildlife issues…but in solving the problem through prevention of future invasions.
Mike started out doing fur trapping when he was 30. He quickly became a member of the New Hampshire Trapping Association and then became the Director of the National Trappers Association for 10 years. He was around when the first nuisance wildlife control association was created. Mike has his NWCOA (National Wildlife Control Operators  Association) certification, which most nuisance control people in Florida do not have.
He started out working the business alone, but quickly saw that he needed help on the administrative end, so his wife Marilyn stepped in to take over the front office over 20 years ago.  They've been doing this business for so long that none of their 5 children remember either of their parents doing anything else.
Both Mike and Marilyn are outdoors people at heart. Their favorite hobby is riding bicycles.